Free virtual practice tests
Has your student taken an SAT or an ACT? Maybe they took an SAT but not an ACT or maybe they just want more practice. Join Tutor Doctor for a FREE virtual practice test! The more practice, the more confident your student will become. This opportunity also gives your student a chance to decide which test is best for them. We will follow up with a strategy meeting in which we will discuss scores and tips.
SAT/ACT Virtual Boot Camp
Each Boot Camp is 4 hours and begins at 9 am. The cost is $139 for the class and includes a textbook, which will be dropped off to your porch prior to the start of this class. This is not the full test prep program or book offered by Tutor Doctor but rather, a condensed program taken for the purpose of high-level tips and tricks before an official ACT or SAT exam. Courses are offered 2 weeks prior to each scheduled exam unless the class doesn't make. A minimum of 6 students is required for the class to make. If a class doesn't make, you will be notified and may be offered an alternate location.

Space is limited! For more information & to register, click below.
Full Length Private Test Prep Tutoring
For a more customizable program, try our full length private tutoring programs. Course length is customizable from 16 hours to 36 hours and private tutoring and includes a 1 year license for the personal progress portal and a full length text book. This is the most comprehensive program on the market and can be adjusted as needed throughout the program.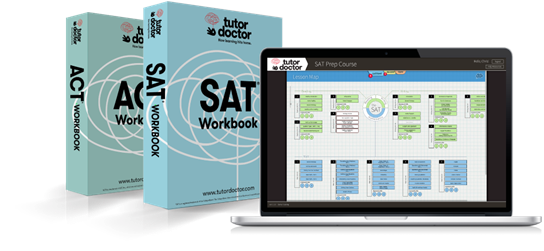 Interested in our SAT/ACT Programs?
Call(682) 312-3451 today for more information!